Affiliate links are included throughout this post at absolutely no cost to you.
'Tis the season to be jolly, because it's the most wonderful time of the year! It doesn't take long for my calendar to fill up with fun and festive events during the month of December, and that's a-okay with me! I love celebrating the season and all that it entails. I especially love any excuse to get to wear a tacky Christmas sweater, and it seems like lately they're really starting to grow in popularity!
And honestly, this is a trend that I hope sticks around forever. I searched Amazon high and low for a few of my favorite tacky Christmas sweater finds, and I laughed and laughed as I discovered some of these hilarious knits adorned with funny images and infamous catch phrases from some of my favorite holiday movies!
These are just a few of my faves, and they're all reasonably priced, too! I just purchased the Griswold Family Christmas sweater for myself, but I might have to ask Santa for a few of these to be placed under the tree for me this year! 😉
Merry Crustmas Pizza Christmas Sweater
Gangsta Wrapper Christmas Sweater
Buddy The Elf Son of a Nutcracker Sweater
Elf Movie "You Sit on a Throne of Lies!" Sweater
Elf Movie "Cotton Headed Ninny Muggins" Sweater
Home Alone Kevin Christmas Sweater
Home Alone Merry Christmas Ya Filthy Animal Sweater
Home Alone The Wet Bandits Christmas Sweater
Home Alone Buzz's Girlfriend Christmas Sweater
Seinfeld Festivus Christmas Sweater
National Lampoon's Christmas Vacation -Griswold Family Christmas Sweater 
Griswold Family Christmas Light Up House Sweater
National Lampoon's Christmas Vacation RV Christmas Sweater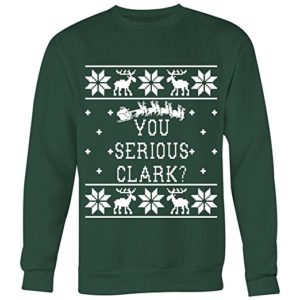 Cousin Eddie "You Serious Clark" Christmas Sweater
A Merry Carlton Christmas Sweater
Mike Tyson Merry Christhmith Sweater
Mean Girls "You Go Glen Coco" Sweater
A Christmas Story "You'll Shoot Your Eye Out" Sweater
A Christmas Story Leg Lamp Sweater
Make Christmas Great Again Sweater
Fa La La La Llama Christmas Sweater
Bah Hum Pug Ugly Christmas Sweater
Oversized Women's Christmas Sweater
Santa Paws Women's Christmas Sweater
Women's Ugly Christmas Sweater Tunic
Elf Head Women's Christmas Sweater
Light Up Christmas Light Bulb Necklace
Don't forget the invitations! Ugly Christmas Sweater Party Invites
Ugly Christmas Sweater Cookie Cutter – Have a cookie decorating contest!
Ugliest Christmas Sweater Trophy
Do you rock tacky Christmas sweaters during the month of December? Are you hosting or attending a tacky Christmas sweater party this holiday season! Which sweater is on your wish list? Leave a comment below and share the holiday spirit!