I received these products at no cost to facilitate my review. However, all thoughts and opinions expressed are completely my own.
I don't know what it is about a pregnant woman, but it seems like once people see her beautiful baby bump, they flock to her with a sack full of unsolicited advice like they're moths to a flame. Seriously, people will come out of the woodwork trying to share their two-cents on something baby-related. It's nuts! My two-cents it that it's so important to try and  remember that every pregnancy and every baby are different, so comparing them isn't particularly fair or helpful. 🙂
Even though it may or may not be wanted, sometimes the advice is actually pretty helpful. From my experience, though, a lot of the random acts of parenting advice are either off-putting, irrelevant, comical (in a bad way) or sometimes just plain weird.
Honestly, I've forgotten a lot of the terrible advice that I received during my pregnancy. This mom-brain doesn't have room for that kind of unnecessary baggage, ya know! But I do recall always wanting to majorly roll my eyes when people would tell me to "sleep while the baby sleeps". Instead of working up the energy to tell those people how impractical and unrealistic that is, I would just nod my head and smile. But seriously, y'all. Let's just stop offering that "advice" to new parents. It's pretty tired (no pun intended), and unless you're offering to come clean my house and do all of the other chores while baby and I both nap, I'm not listening.
On a more positive note, one piece of advice that was actually really helpful to me was to consider adding multiple brands of pacifiers to my baby registry instead of sticking to just one brand. I was a MAM baby myself, and I assumed that my child would probably be no different, but I had no idea what she'd prefer, and it's best to not assume! But sure enough, she rejected every brand of pacifier except MAM's. She's one smart little cookie! I'm glad I listened to that advice and gave her the option of other pacifiers, though. The child can't help that she has impeccable taste! 😉
But did you know that MAM actually carries other products besides pacifiers? I didn't until recently, so naturally I was really intrigued when I started seeing things like training cups, bottles, teethers, oral care products, and other accessories! My loyalty and love for MAM pacifiers was already unbreakable, but would my love extend to their other products as well?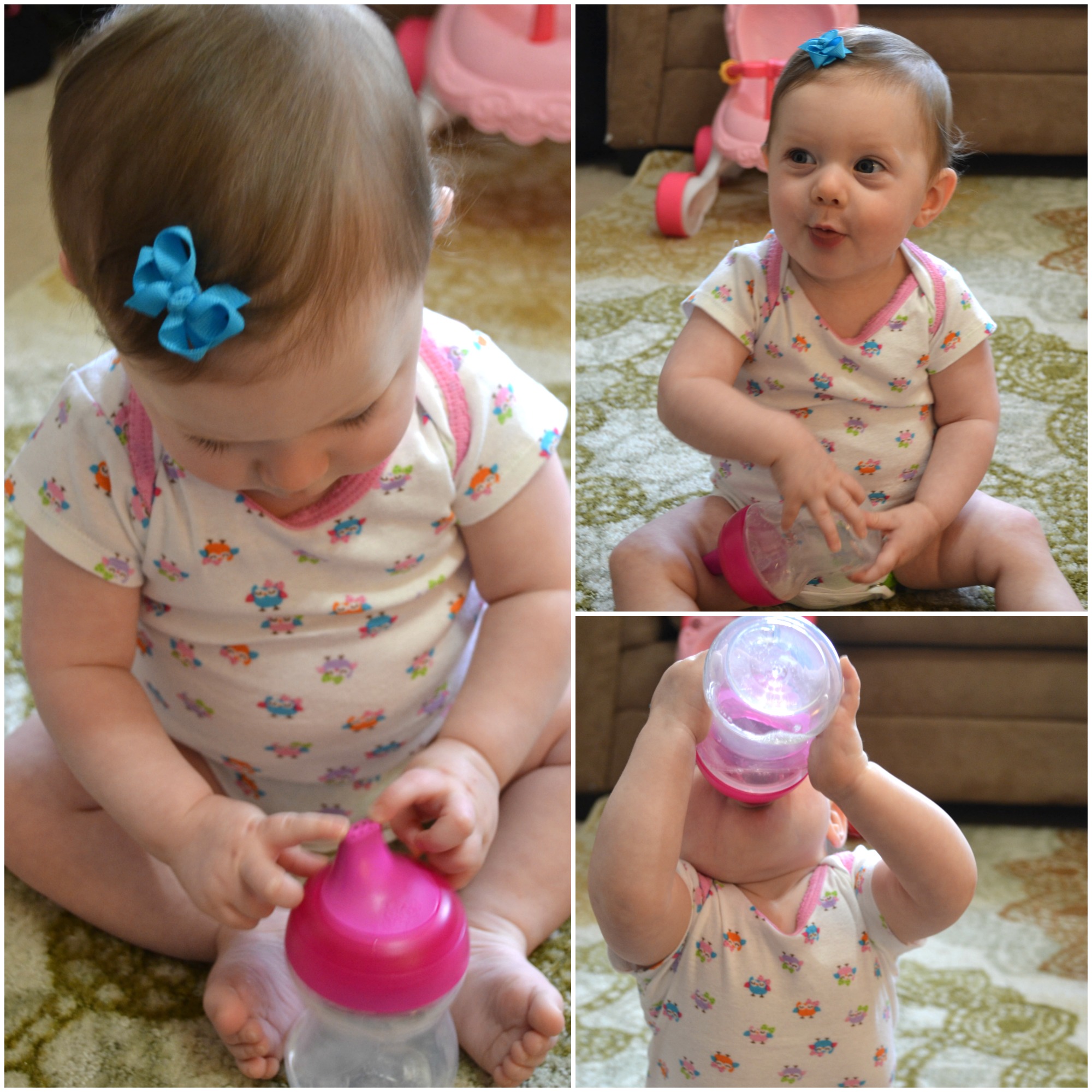 My daughter was ready to be the judge of that! MAM sent us a couple of new things to try, one of which was their Learn to Drink Cup.  My daughter has been gradually transitioning over to "big girl cups" from bottles, so this was perfect timing for us to try it out.
I was a little unsure about this cup, because her other transitional cups have a flexible silicone-type of spout that is very similar to a bottle nipple, just shaped differently. This particular nipple has a spout that is a good bit harder than what she is used to, so I was scared she would be confused by it.
Remember me mentioning earlier that she's a smart little cookie? She took to this "big girl cup" like a pro! She latched right on and chugged away! She was so proud of herself for it, too.  I especially appreciate that there is a removable valve on the inside of the spout to prevent leaks. That's a big plus for me! The Learn to Drink Cup comes in two sizes (6oz and 9oz), three different colors, and is available to purchase for just $6.99.
Another item we were sent to review is the Learn to Brush Set. This particular set came with two brushes, one of which has a longer handle to help both parent and baby grip the brush, and a smaller brush for the baby to use once they're ready to give brushing a try independently.
One of the first things I noticed was the tiny little red line on the center of the bristles. This is a super helpful little indicator that lets you know the proper amount of toothpaste to apply to the brush.
The brushes came with a special safety shield attachment to help keep the brush a safe distance away from the back of baby's mouth. The Learn to Brush Set comes in 3 different colors and is priced at just $7.99.
My daughter loves brushing her two little teeth and gums. It's part of a special night time routine that she has with her Daddy. I'm glad that they made the handle big enough for both her and her Daddy to hold on to at the same time. She wants so badly to do it by herself, but we're just not ready to let her have that much independence. 🙂
Finally, we were sent a package of out beloved MAM pacifiers. You'd think I was opening a package of candy in front of a kid when I opened this new package of pretty pink pacifiers in front of my daughter.
These particular pacifiers are from the night time collection. They're my absolute favorite ones in our stash because they glow in the dark! They're SO easy for my daughter to quickly find by herself in the middle of the night in case she were to spit it out accidentally.
The night time pacifiers come in multiple sizes and colors and retail for around $7.49 for a two pack. Heading to the good advice I received during my pregnancy, I encourage you to give multiple brands of pacifiers a try, but I HIGHLY encourage you to try MAM out first! Not only do they make wonderful products, but many of the designs help promote healthy teeth alignment and jaw development, which is a really important factor to take into consideration in my opinion.
While you're at it, go ahead and register for other MAM products like I mentioned above. I think you'll be so pleased with them!
Mega MAM Giveaway!:
One of the biggest rites of passage for expectant moms is receiving unsolicited preggo advice. Share the BEST or WORST piece of advice you got with MAM using #PreggoLessons.
MAM will select their five favorite stories to win a $100 prepaid card! Click here to enter the giveaway going on on MAM's Facebook page! (Did you catch the part where I said there would be FIVE winners?)
Win it!:
One lucky Southern Made Simple reader is going to take home a MAM prize pack including the items that I reviewed! (MAM pacifiers, Training Cup and Training Brushes). Hip hip hooray! Please enter using the giveaway form below. Ends 4/1
Open to residents of the United States 18 and older. Limit one entrant per household. Giveaway will end at 11:59pm CST on 4/1/2016. Winner will be drawn using Giveaway Tools. Entries will be verified. Winner will be contacted via email and will have 48 hours to respond before the prize is forfeited and a new winner is selected. Southern Made Simple is not responsible for prize fulfillment.