This post was sponsored by SwimWays as part of an Ambassador Program for Influence Central and all opinions expressed in my post are my own.
Have you ever been so hot that you were certain you could just melt onto the floor if you stood still long enough? I've been feeling the heat a lot here lately. In fact, earlier this morning when I stepped out onto my front porch, I encountered a wall of heat and humidity that hit me square in the face like a ton of bricks – so much so that it literally made me gasp with extreme displeasure over these offensive temperatures. I mean, it should NOT already be in the mid 80's before I finish my morning cup of coffee, am I right? (Way to be rude, Mother Nature!)
Even though I always have a hard time acclimating to the heat, summer truly wouldn't be summer if it wasn't hot outside, and it's a whole lot easier to not complain about the heat when you get to take a dip in a pool of cool refreshing water!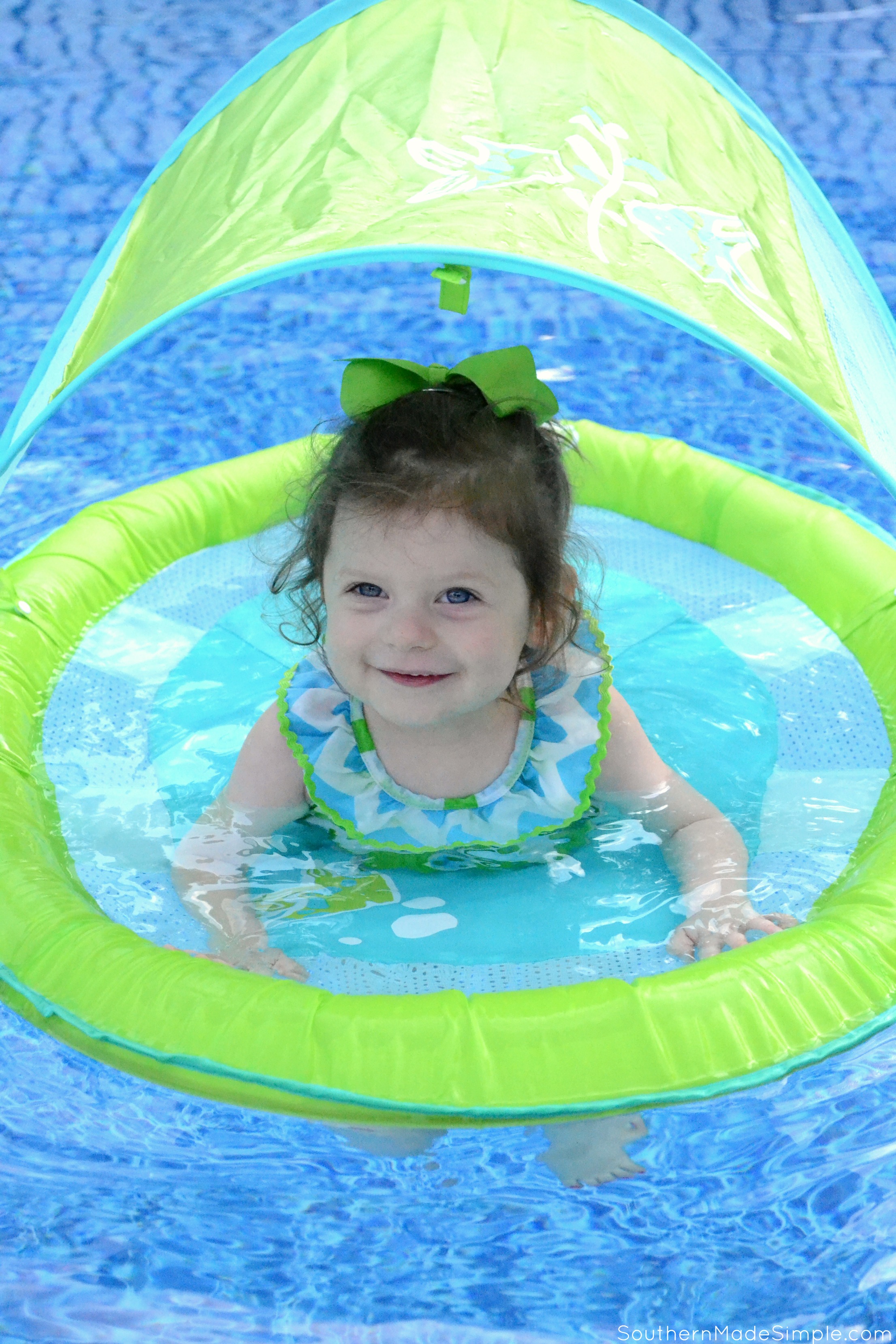 Splashing in the pool is, hands down, my favorite summertime activity. Earlier last month I shared with you a few tips I had for preparing a toddler for pool season, and I also shared a little bit of information about National Learn How to Swim Day, which took place on May 20th, 2017.
Introducing my toddler to the water has been one of the biggest highlights of my summer so far. My daughter is incredibly curious by nature, and seeing her splash around in the water and learn how to make waves and kick her feet has brought so much joy to me. Before her first pool day of the season, I wanted to make sure that she had baby float that was safe, functional and allowed for lots of fun to be had!

When it comes to pool floats and accessories, SwimWays is always #1 in safety and fun. In fact, SwimWays is a known leader in helping children learn to swim and promoting water safety. The SwimWays Baby Spring Float Sun Canopy is currently the #1 baby float on the market today, and it's been monumental in helping us introduce the pool and water safety to our baby girl.
We particularly love the fact that it has a removable two-position sun canopy to help shield her from the sun's harmful rays, has a soft and wide circumference for added comfort, stability and play space, and that it folds up into 3 compact circles so that it can easily be stored when not in use. This float has helped my little girl feel confident and free to play and learn in the water, and those feelings are instrumental in getting a child prepared to learn to swim. I feel certain that as the summer goes on, she'll only become more and more comfortable in the water thanks to the SwimWays Baby Spring Float!
The SwimWays Baby Spring Float supports young children ages 9-24 months and is available to purchase in-store or online at Target.  This float is the reason for so many smiles this summer, and it's truly been a total gem in helping us introduce the water to our toddler and to ensure that she's comfortable and having fun!
By the way, if you're looking for a few valuable resources on how to teach your kids how to swim and be comfortable in the water, SwimWays has you covered! Click here for more info!
Do you have any fond memories of teaching your little ones to be comfortable in the water? Do you have any tips for teaching children water safety? Leave a comment below and share the love!