Affiliate links are included throughout this post at absolutely no cost to you. I only promote what I truly love! I hope these 8 Things I Learned Cloth Diapering help you out as you seek out a better diapering solution for your little one!
Almost 1 year ago to this very day, I put my very first cloth diaper on my tiny little 1 month old baby girl. I had anxiously been awaiting that moment since before she was even born! I was excited, hopeful, nervous and everything in between. I had put in countless hours of research and preparation to get us to that point, and I was hoping and praying that we would find success in our new endeavor. It was something that I really wanted to work for our family, but I knew that there would be a lot of things that I wouldn't be able to know or learn until we took that leap and tried it ourselves.
And here we are one full year in, and we're SO happy with our decision to cloth diaper our child. Just as expected, I've learned quite a few things along the way. I thought I'd share those things with all of you who may be looking into choosing cloth for your little one. These are the top 8 things I've learned that came to my mind when looking back on the past year. Be sure to read all the way to the bottom, because some lucky duck is going to snag a cloth diaper to add to their own collection!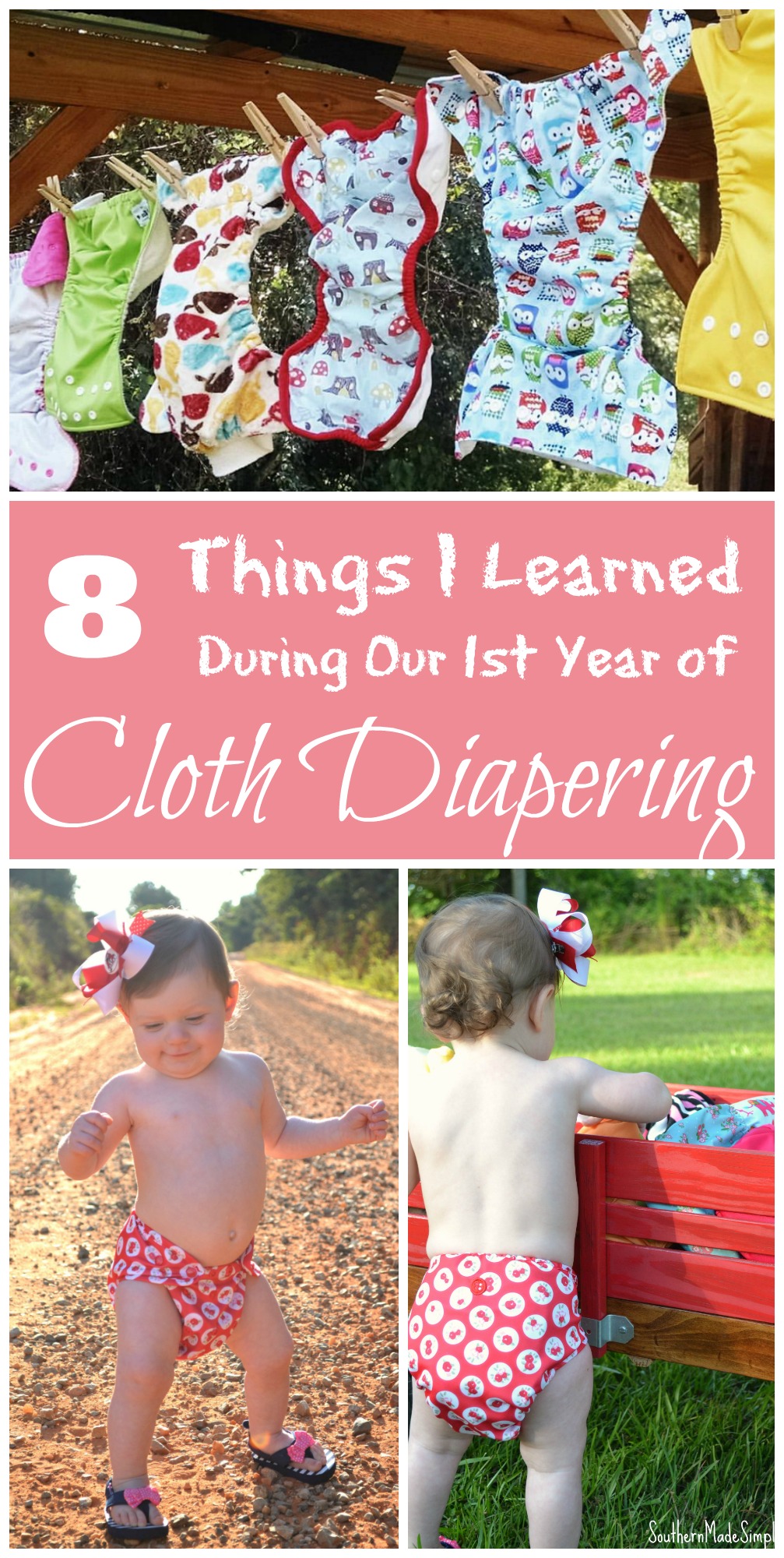 Having a Support Group is Important…(And Finding One is Easy!)

A common problem that I've seen many parents faced with is claiming to not have anyone to support them through the process. Maybe their spouse wouldn't get on board with the idea, or maybe they just didn't know anyone that had any experience to reach out to for help getting started. What I discovered early on into my cloth diaper journey is that there are TONS of online support groups of moms (and even a few dads) who are excited for you to start and are rooting for you to choose cloth! They are willing to answer your questions, address your concerns, and even share info that they've found to be useful during their own journey. If you're looking for a place to get started (or even if you just want to be a fly on the wall for a little while,) I recommend getting connected with the other cloth lovers on in a cloth-specific group on Facebook. You may even want to do a search to see if there is a local group that you can join. I have been a part of several groups over the years, some brand specific and some not. I encourage you to seek out both general and brand specific in case you have any particular questions about a certain brand! Because Buttons is one of my favorite brands, I've grown to love the Buttons Diapers community on Facebook.


It's Not Always Easy, But It's Certainly Not Hard! (And SO Worth It!)

Most people that embark on the cloth journey go through a struggle or two along the way. I think it's true that cloth diapering isn't as easy as using disposables for a few reasons (convenience being the biggest one,) and putting on a cloth diaper for many is not nearly as intuitive as putting on a disposable. You may find that you struggle initially with getting a proper fit on your baby (not uncommon), or you find yourself going through a few different styles and brands of diapers to find one that fits your needs. You might even need to go through some trial and error to get a good wash routine down pat (definitely not uncommon.) The good news is this: those struggles are temporary, and with a little research and perseverance, you'll come out a cloth diaper champ! Once you really get in the groove of things, it's high flying from there. And if by chance you do encounter another hiccup, you've got your support group to consult about it!


You'll Get Questions

As long as your baby is wearing cloth, you'll have people asking you about them. Sometimes the questions are on the positive end of the spectrum – coming from people who think modern cloth is neat and maybe even something they'd be interested in. Those are the best! I'll always love answering cloth-related questions for someone who's sparked an interest. Unfortunately, sometimes you may get questions from people who just don't "get it" and don't really want to "get it". They're concerned that you've decided to do something that is, in their eyes, out of "the norm." I don't get those questions or comments a whole lot, but make no mistake, I do get them. I've even had people that have never cloth diapered a day in their life tell me how I need to do it, completely undermining the hours of research, time and preparation I've put into it. In those situations I just remind myself to keep my cool and always be a positive advocate for cloth. After all, people throw rocks at things that shine! I truly believe that cloth is making a HUGE comeback, though, and that hopefully my children will live in a society where cloth has become mainstream again. No matter what kind of questions I get, I'll always try my hardest to leave people feeling a little more educated and with a positive view of the cloth movement.


Diaper Laundry is the Best Laundry

Don't get me wrong, diaper laundry is still work. There isn't a magic fairy that comes around and mixes the detergent for you at the perfect ratios and stuffs all of the pocket diapers with their coordinating inserts. That would REALLY make me love doing diaper laundry! I guess there's just something about all of the diapers being fresh and clean and put away that makes me feel so proud. I don't ever feel that way about washing my own clothing, that's for sure! Maybe it's just because I truly see how beneficial my diaper laundry is for my family economically and environmentally. Plus, there's nothing else quite as satisfying as seeing all of your cute diapers hanging on a line to dry!

You'll Find Your Favorites

When people ask me what kind of diapers to get or what brand to buy, I ALWAYS tell them that it's important to buy a variety of brands and styles. An across the board "best diaper ever" does not exist, because every baby is different and every diaper is different. Other cloth diaper lovers may prefer brand-x diaper because it fits their baby the best around the legs, but brand-x doesn't work that well for us because my baby has skinny legs. Do you see where I'm going here? That's why you need to try out several! You'd really be in a pickle if you only purchased a bulk package of one brand of diaper without trying it and you find out that they don't work for you. But once you do find a brand or style that works for you (there can be more than one), you'll feel like you struck gold! For us, Buttons Diapers are a very clear winner. (If you've never heard of Buttons before, I encourage you to read my full review and watch my short video here.) In my review I break down all of the reasons why they reign supreme to me in my cloth diapering world.
Buy All The Diapers! – When you find your favorites, you may have to show some serious restraint to not go overboard and buy all of the colors and prints that they have. People may think it sounds weird to say that cloth diapering is addicting, but I've definitely come to find that it can be! Just when I think I've got more than enough diapers in my stash, Buttons comes out with a brand new print that is just to die for! I try not to be impulsive about buying a ton of diapers, but it's not hard to convince myself to buy them when I know that all of my future children will be able to wear them, too! I definitely can NOT say that about disposables. 😉


Poo Doesn't Scare You

I think an initial turn off for a lot of people looking into cloth diapering is knowing that they can't just roll up a poopy diaper and throw it in the trash. You do actually have to deal with the poop, but let me tell you, with the proper tools, it really ain't no thang! If you've done any cloth diaper research, you may know that there are several different methods for dealing with #2. I use am amazing little invention called a diaper sprayer that attaches directly to my toilet and rids the diaper of any solids within a matter of seconds without your hands ever having to touch anything nasty. Sure, it isn't the most glamorous job, but it very quickly becomes second nature. Seriously, poo doesn't scare me at all anymore thanks to my sprayer. When things start to get stinky, I just take it into the bathroom and handle the situation #likeaboss. No problem!

You'll Cringe At Having To Buy Disposables

We consider ourselves to be part time cloth diaperers. We cloth 6 days out of the week and are in disposables ALL day on Sunday. We also keep disposables on hand when we travel and when our daughter stays at her grandparent's house. We could certainly make the effort to only use cloth and never buy disposables, but we've found our current method to work best for our family. I stocked up on a good bit of disposables during my pregnancy, and because I started putting her in cloth when she was just one month old, I didn't ever have to buy a pack of diapers until she was 10 months old. It was AWESOME! But ever since I bought that first pack, I seriously cringe every time at the thought of letting my daughter poop on my hard earned dollars and then throwing it away. I cringe at the thought of putting her in chemical-filled plastic when she could be sitting on soft, luxurious and natural fibers that won't be thrown into a landfill. Disposables do still have a place in our lives, but I'm so much happier with our choice to invest in cloth diapers that are far more sustainable in the long run. Plus, cloth diapers are WAY cuter than those ol' disposables! See what I mean?! (Pictured below: Buttons Diaper Cover – Rosebud – limited edition print no longer available)


Your Reason for Using Cloth is Watching You

It's no secret that cloth diapering is a responsible choice environmentally and economically. I recently read somewhere that the average baby goes through roughly 6,100 diapers before they're potty trained. I go through a rotation of about 25 cloth diapers, and I really have more than is even necessary. Those 25 cloth diapers that I invested in will not only be used for my daughter, but also for any future children that I may have. Instead of dumping thousands and thousands of dirty diapers into a landfill, we've reduced our carbon footprint drastically, leaving the Earth a little bit cleaner for our children. We've also been very frugal in our diaper spending, meaning we can have more money to put into things for our children that really matter. These are the types of lessons that I strive to show my daughter every single day. Children learn by watching. Are the choices you're making something you hope your children will repeat? Knowing that my daughter is watching what her Mommy does makes me push even harder to successfully cloth diaper her so she can have a better future. We're one year into our cloth journey, and we're so SO happy we took that jump!