This is a sponsored conversation written by me on behalf of Banana Boat®. The opinions and text are all mine.
Just a few weeks ago, my family took a much needed two-day getaway vacation to a large city just a few hours across the state from us. My husband and I were in desperate need of a little quality time together, but we also wanted to make sure the trip was full of fun activities for our little girl to enjoy. We heard about this amazing children's science discovery museum that was in the heart of downtown, so we packed up and headed over to see what it was all about!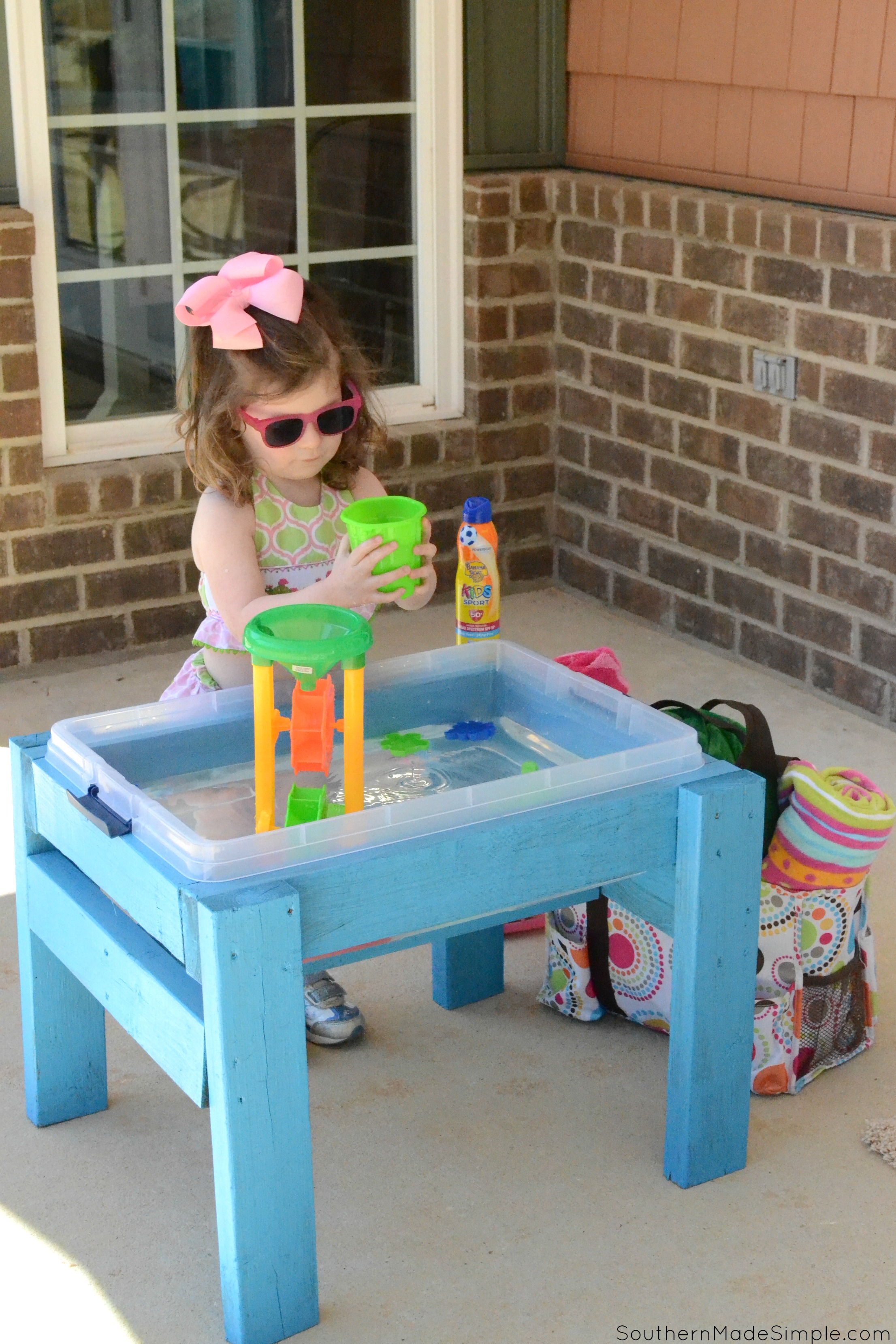 The museum was 3 huge floors of nothing but pure awesomeness! There was something for all ages to enjoy, and most of the second floor was designated as a toddler-play area. Naturally, this was where we spent the bulk of our time, as my little one fell head over heels in love with a bright and vibrant water discovery attraction that held her attention for what felt like hours! My husband and I watched her run, play and squeal with absolute joy over all of the splash-worthy stations at the museum's massive water table. I had never considered a standing water play option for little ones before, and it certainly made a light bulb pop into my head for our next project to build just in time for the warm weather!
So after consulting the master carpenter of the house (aka: the hubs) to work out a few plans, we dreamed up this simple design for a portable outdoor water play table that would make playtime for our daughter way more fun, right at our own home! Using just under $30 worth of supplies, it was way cheaper and more efficient than buying something similar at a store! Plus, no $45 daily family museum fee for us to make a few splashes. Score! 😉
Here's what you'll need to get started:
3 planks of 2x4x8 treated wood
#8×2″ Deck Screws (32 to be exact)
34 Qt. Plastic Tote with click tight lid (since all plastic totes are a little different, it's important to measure yours exactly before you begin cutting the lumber, as your tote may differ slightly from the one I used and may therefore skew the dimensions slightly)
Water, of course!
Visit the link posted below to see the complete cut list and full assembly instructions.
It's important to note before you begin assembly that we designed the legs of this table to fit the height of our 2 year old. If you'll be building this table for an older child, you might want to consider making the legs a bit longer to adjust to their height.
CLICK HERE FOR COMPLETE GUIDELINES, MEASUREMENTS AND INSTRUCTIONS ON HOW TO BUILD THIS DIY WATER PLAY TABLE
After I assembled the water table, I headed out to my local Walmart to pick up a container of outdoor water resistant paint, a few beach toys and some other essentials we'd need to make our play time outside extra fun! The first thing on my list was to pick up a bottle of Banana Boat® Kids Sport Sunscreen Lotion Spray with PowerStay™ Technology for my little girl. It's so important to apply sunscreen before outdoor play, no matter how long the child may be outside. With the sun beating down as hard as it's been lately, I knew a sunburn on her precious skin was inevitable if I didn't stock up on the SPF!
Before we started playing, we sat down together and put on our Banana Boat® Kids Sport Sunscreen Lotion Spray sunscreen. I've been working hard with my daughter to establish a routine of always putting on sunscreen before playing out in the sun. Even though she's a toddler, she understands when it's time to apply sunscreen and that not putting it on can give our skin one big "ouchie." Sunscreen is always a must if we want to play outside!
Picking out a good sunscreen for children can often be quite a challenge, but I love to spring for the Banana Boat® Kids Sport Sunscreen for a number of reasons. Not only does it provide safe and effective broad spectrum UVA and UVB protection, but it's also a tear-free and sting free formula that's mild and gentle on a little one's skin! Plus, it dries very quickly on the skin so that it won't easily run or be rubbed into the eyes. It's recommended by the Skin Cancer Foundation to protect against the sun's harmful rays, too, which gives this mama some much needed peace of mind! Banana Boat® Kids Sport Sunscreen also stays on and intact in seven conditions – sun, pool water, ocean water, wind, sweat, sand and even 100 degree heat,** so I know my baby is good and covered!
While this particular sunscreen also comes in a lotion option, I really love the spray for this season of our life. Toddlers can be super squirmy, so using a spray to get full coverage makes things so much easier! I simply spray liberally over her body and spread it around evenly by hand 15 minutes before going out. It's recommended to spray a small amount of sunscreen into the palm of your hand and then apply it to the face, which worked out great!
My little has really been enjoying playing at her new water activity table, and I've been enjoying watching her imagination really take off as she "feeds the fish," sinks imaginary pirate ships and splashes  her little fingers in the water. No overcrowded play time, no germ sharing through the water, and no leaves or debris entering the play area! I can also rest much easier knowing she's protected from the sun and can play for longer periods of time without getting sunburned. Water parks and museums aren't always the most feasible or affordable option for fun and interactive play, but building this DIY Outdoor Water Activity Play Table has really added a new element of fun to our days!
Summer Fun Ideas Galore:
For more ideas on fun outdoor activities or ways to make a splash this summer, visit the Banana Boat® Summer Fun Pinterest Board and let your creativity shine! Also, stop by your local Walmart and try Banana Boat's new line, Banana Boat® Simply Protect TM which contains 25% fewer ingredients in a lightweight formula!
DISCOUNT ALERT!:
Do you use the Ibotta app? If so, you can earn $1.00 cash back on your purchase of any Banana Boat® product (some exclusions apply) from 4/4/18 – 5/30/18! You can find the Ibotta offer here. I don't know about you, but I'm always down to save a little dough! ?
What fun activities is your family participating in this summer? Will you be having fun in the water and the sun like us? If so, don't forget to pick up a bottle of Banana Boat® Kids Sport Sunscreen Lotion Spray with PowerStay™ Technology to keep on hand while you enjoy the summer rays!
** 7 conditions does not apply to tanning or oil products, SPF 100 lotions, lip balms, Kids FREE and Zinc Faces.