Before I was even pregnant with my daughter, I knew that I wanted to give modern cloth diapers a try. I always love when people ask me about cloth diapering my child and tilt their head and give me a concerned look. It cracks me up! Seriously, I think people automatically assume that I bust out the safety pins and linens to diaper my child. I often have to take a step back and realize that even though modern cloth has been increasing in popularity over the last 10-ish years, many people still just don't know about it. They think nothing has really changed since, I don't know, the 1950's?
But y'all, modern cloth rocks! It is leaps and bounds better than it was all those years ago. Heck, it's leaps and bounds better today than it was last year, and the year before that, and so on! It just gets better. Every time you turn around, someone has found a way to improve modern cloth to make it easier for parents and better for baby.
When people approach me and want to know how to get started with cloth, they often ask me what brand they should buy. My answer is always this: Don't buy just one brand! In my opinion, it's important to buy multiple brands, because each brand may have something different to offer. What I mean is, certain brands may not fit your baby well, or you may not like the style, or maybe you find that they don't do that great of a job. By trying multiple brands, you'll find what works best for your baby. Once you find a brand that you love, you can then make a larger purchase. I have several diaper brands that I love, and some that I just don't. I would have never known had I not decided to try several different kinds!
One of my favorite brands is Buttons Diapers. Hands down. I have fallen head over heals in love them for the following reasons:
Ease of use:

There's no stuffing. There's no taking FOREVER to dry. There's no awkward bulk. You just snap in a Buttons brand insert and go! So easy!
You can also reuse the cover through multiple changes if it doesn't get soiled. If it's just a wet diaper, unsnap the insert and pop in another one. Hooray for less laundry!

The Prints:

I'm not sure I really need to elaborate much here. You can see some of the adorable prints for yourself. Check them out!

The Double Gussets:

Double gussets are one of my favorite features of ANY cloth diaper. Not all cloth diapers have them, but all Buttons brand diapers have them. They are so great and helping keep all contents of the diaper INSIDE the diaper. Double gussets are actually not specific to Buttons. I'm not sure who created this trend in diapers, but I want to hug them and invite them over for dinner. Seriously.

The inserts:

They rock. I love love love them! They hold up really nicely and are very absorbent. I currently only have the daytime microfiber inserts, but I've put a word in with Santa Claus on Taralynn's behalf. She's got her eye on those nighttime doublers! 😉

The Price:

From my experience, I've seen prices for cloth diapers range all over the board. I've seen some "China cheapies" for as low as $2, and I've seen some beautiful hand made diapers on Etsy as high as $60-$70+. We don't purchase the cheapies (you get what you pay for), and I just can't even fathom paying $60 for a diaper. Buttons are such an affordable option, coming in at just $11 for solid colors and $12.50 for prints. The inserts are sold separately. You can pick up a 3 pack for just $10.50! For the cost of 2 packs of disposable diapers, you can have a diaper that can be reused and will fit your child until they're ready to potty train. Win/win!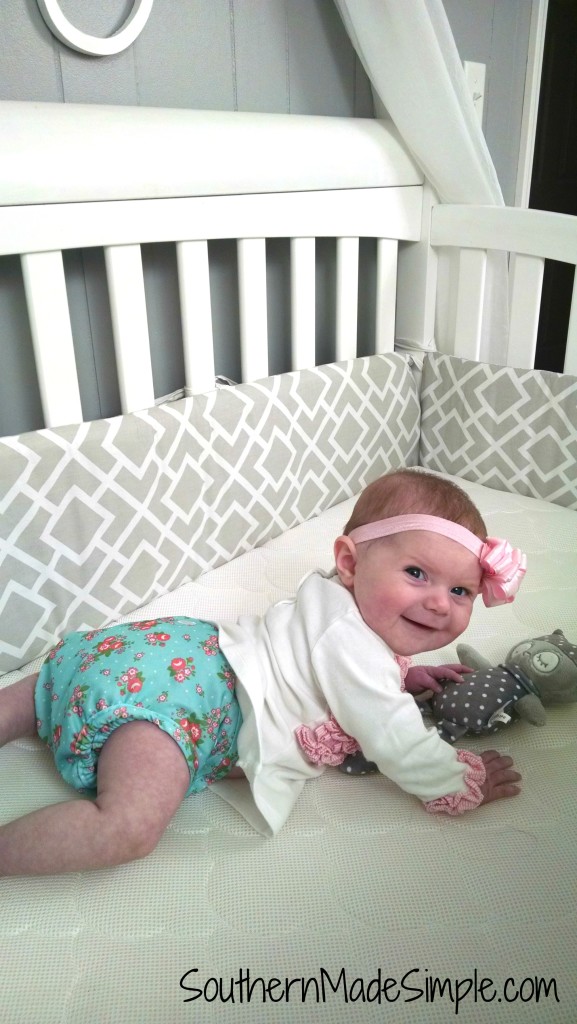 My daughter and I put together this short little video clip to give you a full view of the Buttons Diapers – inside and out! If you're new to cloth diapers and are looking for a great starter diaper, I think these are a great option. If you're a cloth diaper veteran and have never tried Buttons before, DO IT! I think you'll really like them!
I have not been compensated in any way for this post. All opinions are strictly my own. I only share what I love!