Affiliate links are included throughout this post at absolutely no cost to you.
There's been lots of buzz going on around the Tucker hive this past week! This sweet little honey bee toddled her way right into ONE year old, and we've had the best time celebrating her and all of the amazing milestones she's met in her first year!
To help make her birthday celebration extra special, I decided on a Bumble Bee-Day theme. She's already sweeter than honey, so I thought it just seemed fitting for this little queen bee of ours!
Throughout my planning, I stumbled upon a few fun party decor ideas on Amazon (linked below each photo) that may help you out if you're planning your own bee-day celebration, too!
I got a little brave this year and opted to do Laken's smash cake photos myself. Saying that out loud sounds like such a crazy idea to me, because I barely know my way around my digital camera. I can handle food photography okay at best, but having the subject you're trying to photograph constantly moving is a whole different ball game! All things considered, I'm happy with how they turned out, and the bee-themed props I found on Amazon certainly helped set the stage!
The banner hanging in the back is technically a high chair banner, but in my opinion it's way too big to use on a high chair. It worked perfectly for a back drop in the photos, and then to hang on our mantle during the birthday party itself. The banner, crown and large cake topper all came in a party pack together from Amazon.
Click here to purchase the banner, crown and cake topper party pack!
Laken certainly takes after her Mama when it comes to food. There hasn't been a food that she hasn't liked yet! This was her first experience eating cake, and she was grabbing it by the fist fulls and going to town with it! She smashed, smeared and squished just like she was supposed to, and it was so much fun capturing these moments!
Tip: Don't spend gobs of money on a cake for them to smash. Some people want that Pinterest perfect cake for their kids to smash into, but I just couldn't justify spending $45+ on something my kid was going to instantly destroy – and I wouldn't even get to eat any of it! I found this small simple cake for $5 at the Walmart bakery. I knew I was going to have a fun cake topper, and there was no need for the cake to distract from it. $5 well spent if you ask me – with no immediate buyers remorse once it was gone! 😉
A few weeks ago I stumbled upon these cute little bumble bee metal tins on 60% off clearance at Hobby Lobby. They were already clearing out their spring inventory and replacing it with Christmas (crazy, I know) so I was able to grab a few for just a few bucks all together! I also scored that cute little bee-kind sign in the background for $2!
For party favors, I bundled together a few sticks of honey and made these cute little tags that said "Thank you for bee-ing here" to pass out to guests. They were a hit!
We purchased this 50 ct package of Pure American Honey Stix here.
Our beloved Buttons Diapers also made an appearance at the party! Laken sported one of our favorite prints – Honeybuns – which is part of the official Buttons lineup and is regularly in stock!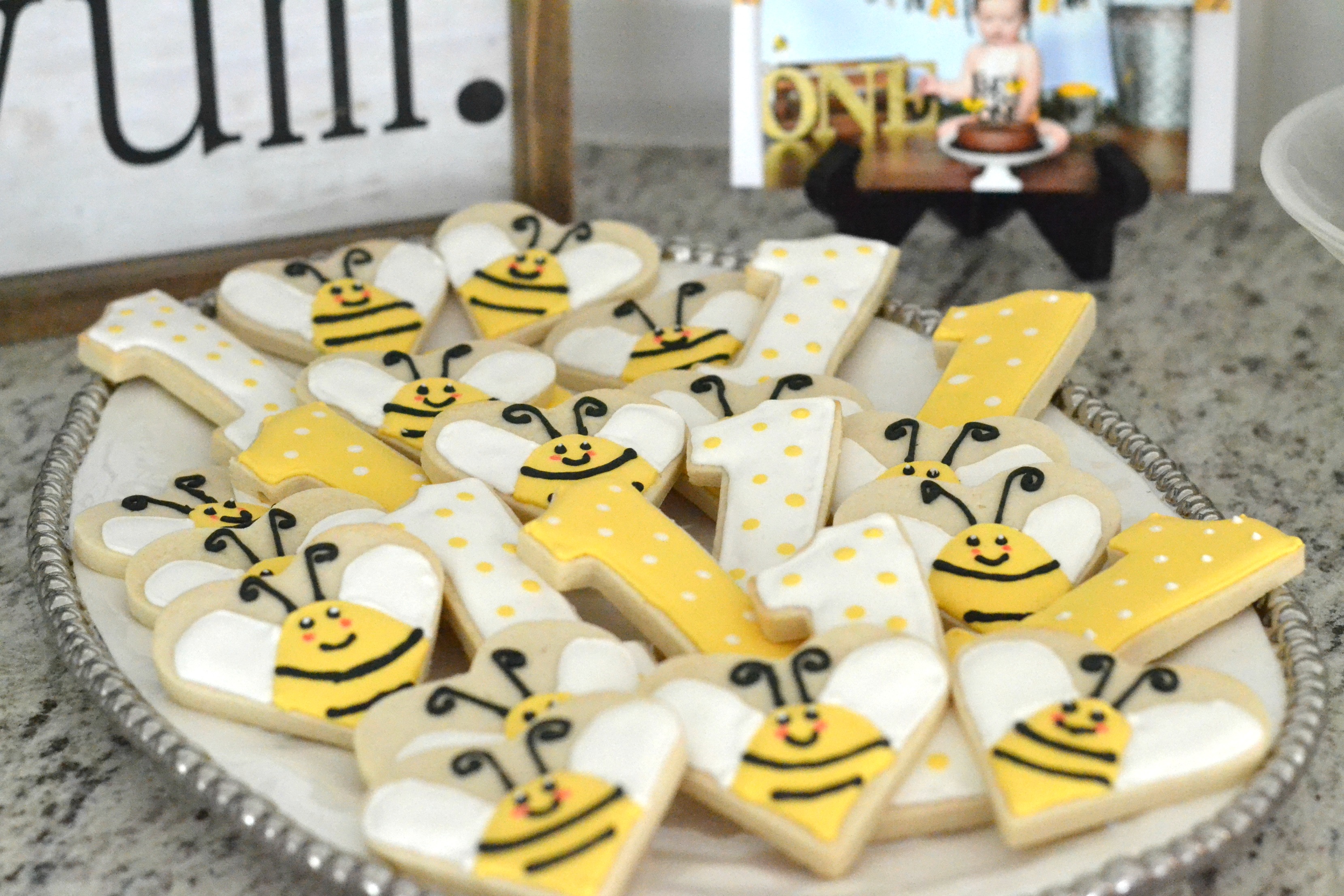 These beautiful cookies were hand made by an amazing friend at our church, and they were definitely the buzz of the dessert table! I'm pretty sure my oldest daughter consumed about 5 of them throughout the course of one day. She absolutely loved them, and Laken definitely approved, too!

Instead of having a large cake during the party, we opted for cupcakes since we were having multiple other desserts as well. I ordered 6 vanilla and 6 chocolate cupcakes with yellow icing for just $6, and I added these cute little bumble bee cupcake toppers to match the theme. They came in a pack of 36, so I had plenty of additional toppers to decorate other things with!
Click here to purchase 36 ct Glitter Bumble Bee Cake Toppers!
Another party favorite was the Honeycomb Trail Mix that I served in these fun mini popcorn boxes! I included Honeycomb cereal, pretzels, honey Teddy Grahams, brown and yellow M&M's, honey roasted peanuts and Craisins in the mix. We had a few boxes left over after the party, so a few guests got to leave with some to snack on while on the road!
Click here to find these mini popcorn boxes on Amazon!

There are tons of honey-themed foods to serve at a bumble bee themed birthday party. I didn't capture our whole food display, but we served Honey Hive Hot Dogs, Honey Bun Burgers, Honey Lime Fruit Salad, Honey Waffle Combs (Waffle ice cream cones to go with the ice cream) and these Lemon Poppy Seed Mini Cakes that are black and yellow  – just like a bumble bee!
I also had a little tin filled with Bit O' Honeys for guests to enjoy. You can also serve Honey Nut Cheerios, Honeymaid Graham Crackers, Honey Buns, and so much more to fit the theme!

I found Laken's romper for less than $15 on Amazon, and my bright yellow wrap dress came from Old Navy!


It's been such a joy celebrating this little honey pot this past year. The year really seemed to fly by! It seems just like yesterday I was sharing her birth announcement with you!  She's starting to take her first steps, says a handful of words and loves to cuddle. Here's to starting another year with our sweet little Laken!