I received these products at no cost to facilitate my review. However, all thoughts and opinions expressed are completely my own.
Since becoming a parent just 10 months ago, this one common thread has remained steadfast and true in my new world full of surprises and change: Babies don't keep.
No matter how much I want to savor my baby's littleness, she seems to grow bigger every time she wakes up from a nap. She learns something new every single day! And while I do celebrate her small accomplishments and newly reached milestones, there's still a quiet part of me that just wants her to slow down. With every bit of independence she gains, that's one less thing she needs her Mama for. I've never experienced anything so bittersweet.
But, alas, the child must grow! I recently noticed my daughter taking an interest in feeding herself. She doesn't want to wait around for Mom to feed her anymore, but would rather go at her own pace. As much as I want to keep that job myself (I make SO much less of a mess than she does), I decided to give in and let my baby learn even though I was a little bit skeptical. That's where the folks at b.box came in to save the day!
I was sent a few of B. box's fabulous products from their feeding and drinking line to try. The first item little miss got to test out is the Toddler Cutlery Set, which comes in four different colors and is designed for babies 9 months and older. The unique design of the fork is made to fit the shape and size of tiny mouths, while the innovative design of the spoon was made to resemble a shovel to help children push food onto their fork. So clever!
Taralynn wasted no time in digging right in. Once I placed her food in front of her, she immediately grabbed the handle of the spoon and took matters into her own hands! Things got a little messy, but I was so impressed to see how quickly she caught on to feeding herself. She did not want me to take away the spoon when she was finished, either!
We were also sent a bowl and straw set to review. This is probably my favorite piece because it can be used 3 different ways. Hooray for functionality! The bowl comes with two attachments. The first is a straw that clips on to the side of the bowl to allow for older kids to easily eat/drink foods such as cereal or soup. This is a feature that we probably won't be using for a long time, or at least until Taralynn understands not to lift the bowl and dump out the contents into her lap. 🙂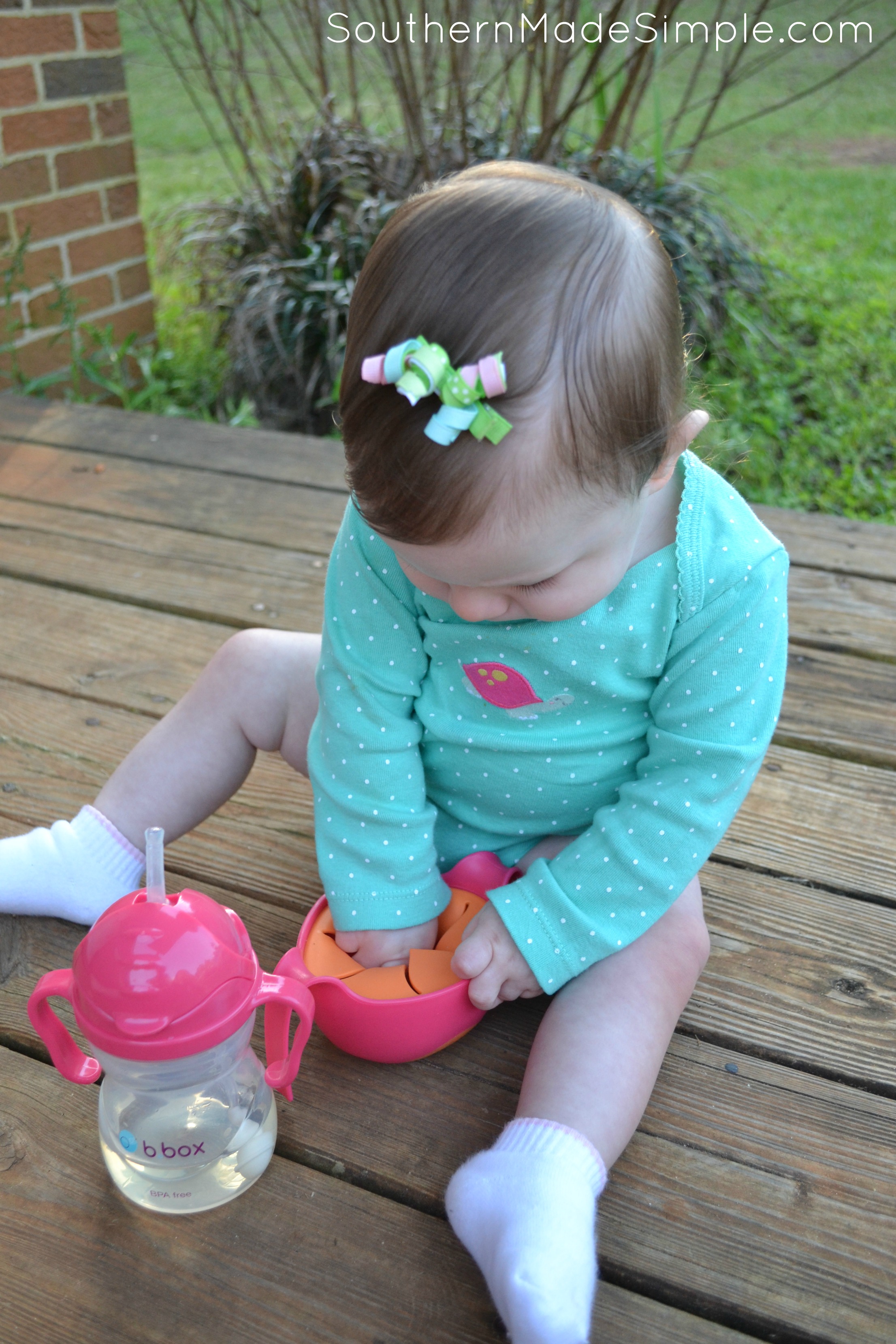 The second attachment makes this bowl the star of the show for us! The snack insert turns this bowl into a no-spill snack cup, which is perfect for tossing into your diaper bag or eating snacks on the go.
The final product we were sent from b.box is the award winning limited edition sippy cup. It comes in nine beautiful colors and has a weighted straw that allows for juice to pass through no matter which direction the bottle is pointing. This is perfect for babies who are transitioning from bottle to sippy cup who still like to lay down when drinking like my daughter does.
This was the first exposure my daughter had to drinking out of a straw. I was a little concerned that she would be confused by how to drink out of it, but within just a few tries she was drinking out of it like a pro! It didn't take her long to realize that she doesn't have to tilt the cup back to get juice out of it thanks to the weighted straw.
I really appreciate that all b.box products are BPA, Phthalates and PVC free. All three items I reviewed are dishwasher safe, which makes for an easy and stress free cleanup for parents. I love these products because they're very intuitive for my daughter to use as she's learning how to gain independence. They're fun, functional, and responsibly made. and they've made meal time so much more enjoyable for both my daughter and I!
Buy it!:
B.box products are available to purchase here. They have numerous products ranging from feeding and cutlery products, to diaper changing and bottle drying stations. B.box has won numerous awards for their fabulous products, which you can learn more about here.
Win it!:
One very lucky Southern Made Simple reader is going to take home a toddler cutlery set + a bowl and straw set like the one I reviewed. Woot woot! Just enter using the form below. Open to US residents 18+. Giveaway ends 4/14.
Open to residents of the United States 18 and older. Limit one entrant per household. Giveaway will end at 11:59pm CST on 4/14/2016. Winner will be drawn using Giveaway Tools. Entries will be verified. Winner will be contacted via email and will have 48 hours to respond before the prize is forfeited and a new winner is selected. Southern Made Simple is not responsible for prize fulfillment.