I received product as compensation in exchange for my honest review. All opinions expressed are 100% my own. I only promote what I truly love!
Yesterday afternoon my office space was taken over by the sound of the sweetest laughter and giggles coming from these two peas in a pod. I stuck my head in to see what was going on, and found this beautiful sight right before my eyes. My husband and little girl were entranced by the brand new book we recently received in the mail, and upon further inspection I saw right away why their smiles were as big as they were!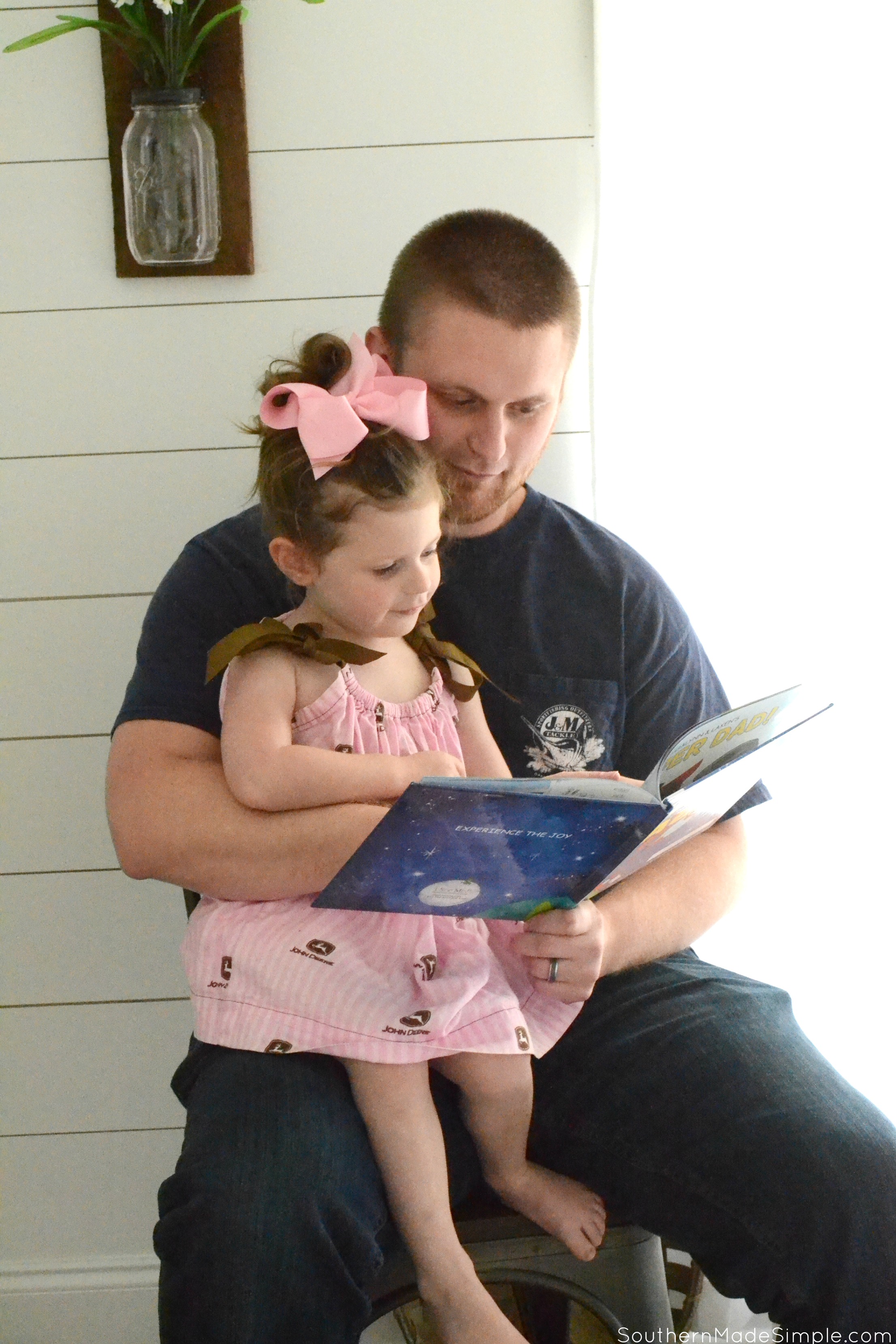 Earlier in the spring I shared with you a very special gift going into my daughter's Easter Basket – Thank You, Lord, for Everything – a personalized children's book from I See Me! Earlier last month they released a super fun book just in time for Father's Day called Super Dad! – a book that celebrates good ol' Dad as the superhero he truly is!
When we unwrapped it out of it's packaging, my husband and I were immediately grinning from ear to ear at the sight of him depicted as a cartoon character using a photo I submitted. I mean, look at those gorgeous locks of blonde hair (and those crazy muscles to boot!) We were thrilled to see how creatively I See Me! personalized the book in such a way that makes it fun for children and adults, and the personalized touches (names and photos throughout) make it a keepsake we'll treasure forever!
The book is filled with things that truly highlight some of a father's greatest qualities, all while keeping a perfectly manicured superhero-esque hairdo. It's really quite impressive! 😉
My daughter loved seeing pictures of her Super Dad doing things that they always do together, such as brushing teeth, tinkering with different things around the house and even cooking supper together. My daughter already gets a twinkle in her eye when she sees her daddy because she believes he hung the moon, so seeing her light up at the sight of this book made it that much more special for us!
I especially love that we were given the option to include our children's names throughout the book. Even though our little Laken hasn't made her worldly debut just yet, she still got in on the gift-giving action for Daddy!
If you're on the hunt for the perfect Father's Day gift that is sure to bring smiles for years to come, check out Super Dad! from I See Me! Personalized Children's Books! There are lots of ways to personalize it to fir your family, and the smiles are sure to be endless!
To keep up with the latest releases from I See Me Personalized Children's Books, connect with them on social media to stay in the loop on products, giveaways and other promotions!
Facebook | Twitter | Instagram | Pinterest
Have you planned out the perfect Father's Day gift this year to give to a special Dad in your life? What is the most memorable Father's Day gift you've given or received? Leave a comment below and share the love!
Happy Father's Day!